2020 had quite a lot to offer, if not exactly solely positive. Also, here at LEDTEK we had to overcome some difficulties, however, we do not want to look sullen, so we want to recap the pleasant events of the year:
LEDTEK Newsletter
Since January 2020 the LEDTEK newsletter has been sent out monthly. A format at no charge that condenses the most important news of the month. It informs about the main events, the technical achievements and the latest firmware status of NovaStar, LEDTEK's partner. Straightforward delivered via Email.
LEDTEK Tri-Frame
In the first third of this year, the idea of our Tri-Frame takes shape: if LED walls are used outdoors, one needs weatherproof products. As big LED walls are not quite streamlined, an unexpected change in the weather pattern can immediately become a danger. The Tri-Frame is a three-point truss system that makes LED installation easy, uncomplicated, and secures it on the rear side.
P4+WH PRO and Tri-Frame, source: LEDTEK
LEDTEK is official NovaStar partner
Since June 2020 LEDTEK has been an official member of the NovaStar team. This brings the following advantages for our customers: an even faster service in purchasing and exchanging NovaStar products and first-hand NovaStar expertise.
The first delivery of 2000m2 of the P4+WH PRO Outdoor wall arrived in Göttingen in October. These are the new cabinets: a pixel pitch of 4.81mm, two sizes of cabinets, exceptional luminosity that makes a usage in direct sunlight possible without losing image intensity, a dimming function for inner areas, three-part cabinets for quick maintenance. All of it can be combined with the new Tri-Frame.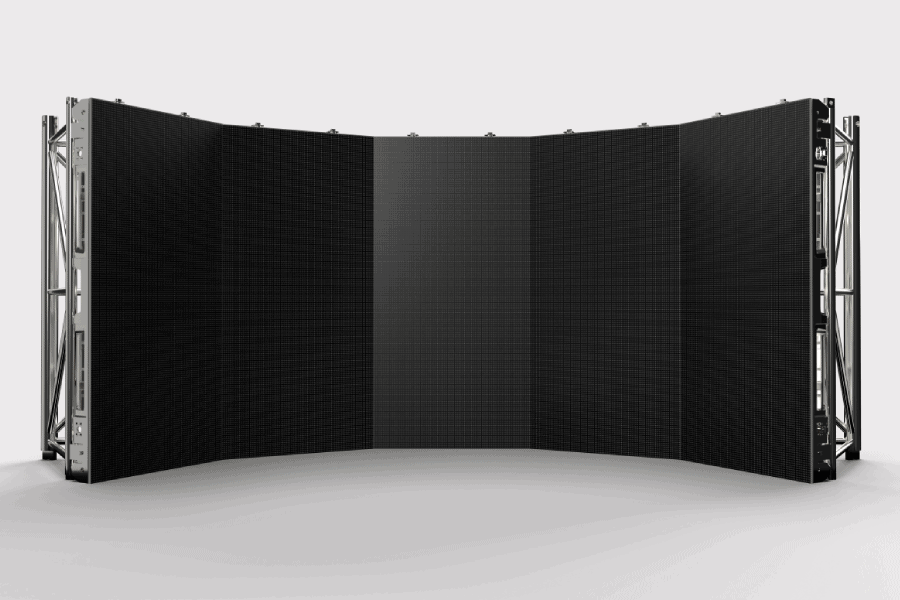 P4+WH PRO, source: LEDTEK
Since October the most common NovaStar devices have been available for sale in our partner shop on our website in. Each is provided with the most important information – at a low price and in stock.
New touring case
The new touring-case is part of our overall solution. Partnered with the Tri-Frame and the shining Pro-Series, the touring case reaches a new level of LED installation. Instead of lifting the modules individually out of the cases, they can now be tied up already in the transport box, and they can altogether be put into the flying bar. This saves time and effort.
In this year we continued expanding our YouTube appearance. Since fall 2020 we have been presenting a series of tutorials, vivid and timesaving. With around three-minute-long sequences we are working on making the programming and installation of our products especially easy to understand.
YouTube Tutorial, source: LEDTEK
LEDBRIX indoor
There is now also a LEDBRIX indoor series. As a reminder: the special feature of the series, constructed originally for outdoor use, is in its front service. In case of a malfunction, instead of having to take down the entire wall, one can solely exchange the broken cabinet.
And what happened outside the company?
Drive-in cinemas
Outside especially drive-in cinemas took place – in Hildesheim with Exposive, in Büdingen with JH MUSIC & LIGHTS in front of the Göltzschtalbridge, and as a disco in Lauterbach. And every time our P4+WH was part of it.
The P4+WH also found its place at the biggest ice cave on earth. 5 kilometres from the cave, it is standing on the side of the road and informs the travellers about information like pricing and availability of tickets.
P4+WH at the driveway ot the Eisriesenwelt, source: E2 Event Engineering KG (E)
Permanently installed and mobile
Furthermore, there was VERANTEC and its container construction, to which our LEDBRIX outdoor walls are attached. They are constructed for permanent installation, but if one attaches them to something mobile, permanent and temporary do not outplay one another.
Ironically, our Christmas party was cancelled this year, after being sure last year not to miss out on this kind of fun.
And as the pre-Christmas period shows itself gloomy also outside of company festivities, we have built a Christmas tree out of a couple of our LED cabinets:
LED Christmas tree, source: LEDTEK
In the end we can count ourselves lucky. The crisis did not break our neck but has rooted us for the bigger. With this we are in the position, of which we know that it is not granted to everyone. With this, we wish everyone an end of the year that is at least partly satisfactory. And maybe we can even add to this in form of some objective help.
If you have questions regarding our products or LED installations in general, feel free to contact us via email vertrieb@ledtek.de or give us a call at +49 551 492 493 44. We are looking forward to assisting you.