The NovaPro UHD is a NovaStar All-in-One product. It imitates the UHD Jr's hardware and user-friendliness. Also, this one has 16 LED outports at disposal, plays contents in 4K and works with a Low Latency mode to transmit the broadcast of video sequences with as little delay as possible.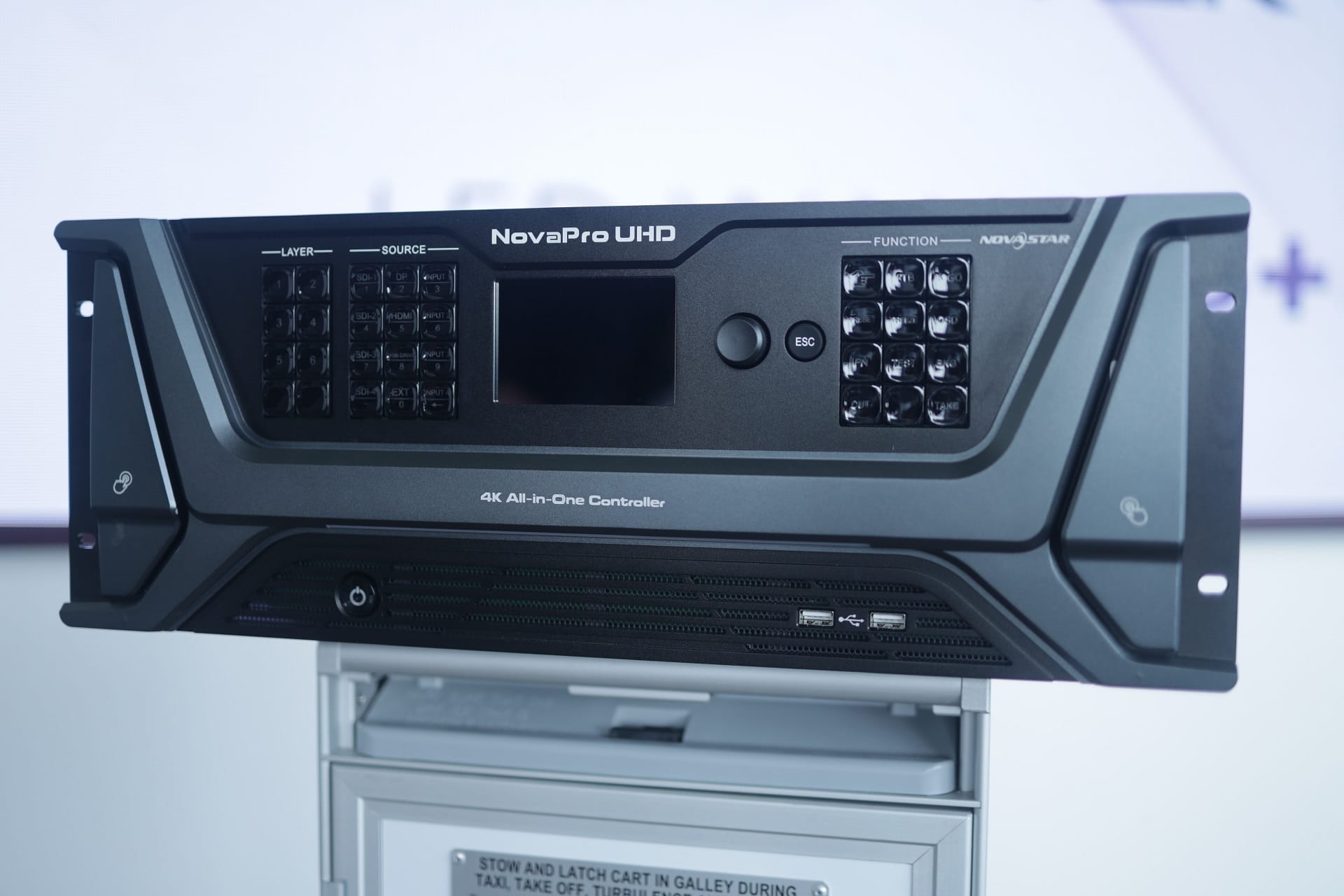 However, it goes a step further than his little brother. The powerful All-in-One controller allows the display of up to 6 layers. This makes big events with several performers even more flexible. Besides a background, logos, information bars or the latest news can be displayed.
Via the Master VI Smart Platform-function the programming of the connected LED wall can be carried out entirely with the controller itself. Truly a comfortable Stand-Alone device.
Technical basis data
INPUT
12G-SDI/ DP 1.2/ HDMI
OUTPUT
16x LED OUT Port/ OPT
OTHER

4K-Scaler with 10,400,000 pixel
6 Layer + BKG + OSD/ Seamless Switcher
HDR10/ Low Latency/ compatible with CVT4K-M

USE

frequently changing domains
frequent scaling necessary
mobility
big events

LedTek WALLS

P2+sBL: 70m2
P3+BL: 160m2
P4+WH: 240m2
Your price:
##,## €
In our shop you find a selection of NovaStar devices for sale. Should there be information missing, feel free to contact us. We are happy to answer your questions on the control technology of our LED displays. You can give us a call at +49 551 492 493 44 or send an email to vertrieb@ledtek.de.
*Prices do not include the legally applicable value added tax.
The indication of the VAT identification number (VAT-No.) proves the entitlement to a tax-free intra-community delivery to another EU country. In the event that a tax identification number can not be presented, the purchase must be made via the German partner shop and the legally applicable value added tax must be added. Shipping is only to EU member states.