The Touring Case as part of an overall solution
The P4+WH Pro is in itself already an outstanding product that convinces with a good price-performance ratio, a high image quality thanks to the pixel pitch of 4.81mm, and a great luminosity. However, the outdoor wall is more than an individual product, it is rather part of an overall solution that consists of the P4+WH Pro, the Tri-Frame and the new Touring Case.
The Tri-Frame is a three-point truss that is used for outdoor constructions. It offers a hight stability and can also be installed quickly and easily, which is why it outplays the usual piping.
The new Touring Case for the Pro-series fits greatly into this overall solution and follows the same aims as the other components: saving time, and a simple installation mechanism at the best price-performance ratio.
Touring Case; source: LedTek (E)
What the new Touring Case can do
The first series of prototypes of the new Touring Cases passed the previous tests and was convincing. But what differs the new Touring Case of the Pro-series from the old Flight Cases?
In the old Flight Case, the cabinets were stored individually, and during the installation process they were taken out of the case accordingly and got installed. The Touring Case leads new paths as it makes it possible to connect and wire the cabinets with each other inside the case. Afterwards you can place one or several Touring Cases perfectly under a flying bar and connect the LED wall directly from the case to the frame. This type of installation saves time.
And the Touring Case Pro is not only really practical, but it also only weighs 1/3 of the extremely heavy LED wall-Dollys, while they are significantly pricier. Dollys do the same work, but they show disadvantages regarding their price and weight.
Testing the prototype; source: LedTek (YouTube) (E)
State of development
So far, four prototypes of the Touring Cases exist. From there, the final touches are made. The overall design is finished and working fine. Now, aspects of suitability for everyday use are being tested in particular to ensure smooth working with the Touring Cases. One of these tests of suitability for everyday use showed that the LED cabinets were still moving too much, which was immediately remedied in the newer prototypes by means of stiffening brackets.
As soon as the final touches have been made to the Touring Case and we can present a thoroughly optimised and reliably usable case, mass production will start, and we will be able to provide you with our new Touring Cases so that you as well can benefit from the advantages in the future.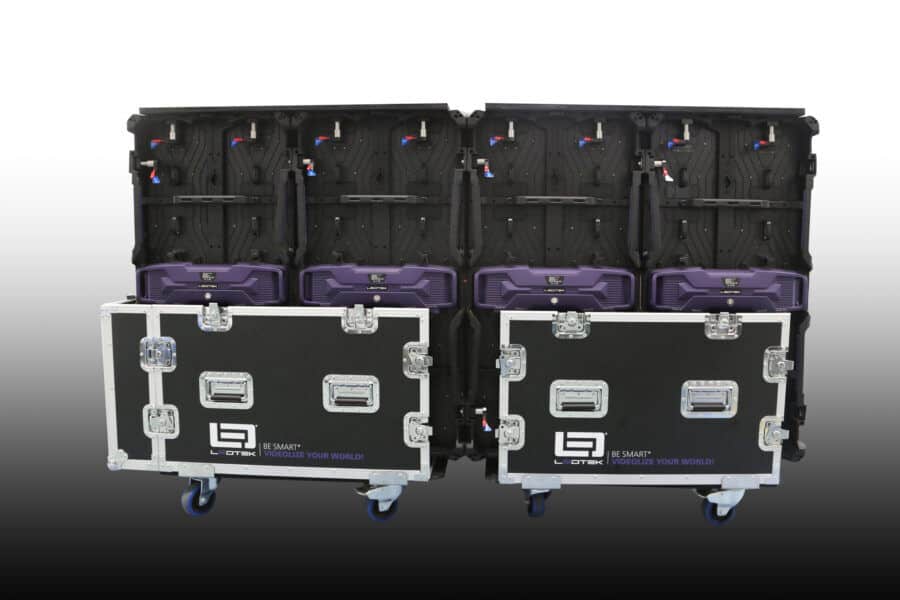 Touring Case; source: LedTek (E)
If you have further questions regarding our Pro-series or other products, we are at your service. You can give us a call at +49 551 492 493 44 or send us an email to vertrieb@ledtek.de.