A four-day fair means in practice two days of build-up, four days of fair, and one day of dismantling. And seven days of fair mean weeks of preparation, calculations and some tearing one's hair. You want to join us? Then here is the fast forward to Frankfurt:
Prolight + Sound in Frankfurt am Main
The Prolight + Sound in Frankfurt is one of the leading fairs worldwide for all innovations of products and services of the event sector. Of course, we could not be missing this event. By the way: in 2019, some of our LED cabinets already visited the metropolis in their first version.
The around 450 exhibiting companies were visited and marvelled at by 28,000 interested people. 34 countries were represented among the exhibitors and displayed everything from light to sound and laser technology. Hence, everything that is necessary for a successful event. The fair grounds in Frankfurt provided three of its huge event halls and offered plenty of space for strolling and looking around.
From a ton of drinks to 270 LED cabinets
Starting from the beginning: what do take with you to the Prolight + Sound in Frankfurt? We tried to write down a packing list:
8 x 5 meters P2+BL PRO with Tri-Frame studding indoor
2,5 x 5 meters P4+WH PRO with Layher scaffolding outdoor
LEDTEK Counter and visible bar with the new NEO-series
Individual cabinets of the P2+BL PRO and P2+BL NEO
6 x 9 meters P4+WH PRO with Tri-Frame studding outdoor
7 x 2,5 meters DJ installation outdoor
Demo version oft he EXPO fair cabinets with QUADTEK technology
9 LED controllers
This makes 270 LED cabinets, 136 Tri-Frames and ca. 10 tons of ballast. By the way, the latter was pretty lightweight as the statics of our upright systems allow for the smallest possible additional ballast and the greatest possible stiffening through slender-footed Tri-Frames and diagonals.
Slim safety constructions offer an easy assembly and less floor space, and in this case another advantage: more space for drinks and presents. Therefore, a ton of drinks of all kinds and 400 LEDTEK bags with useful contents were packed for our visitors at the stand. With all the technical and culinary delights in the suitcase, it was then possible to spend the week in Frankfurt quite excellently.
The load did not get dropped of entirely at the LEDTEK stand E97 in hall 12.1. With our cabinets, we also sponsored the Live Sound Arena and the Performance + Production Hub with a P4+WH PRO and a P2+BL PRO.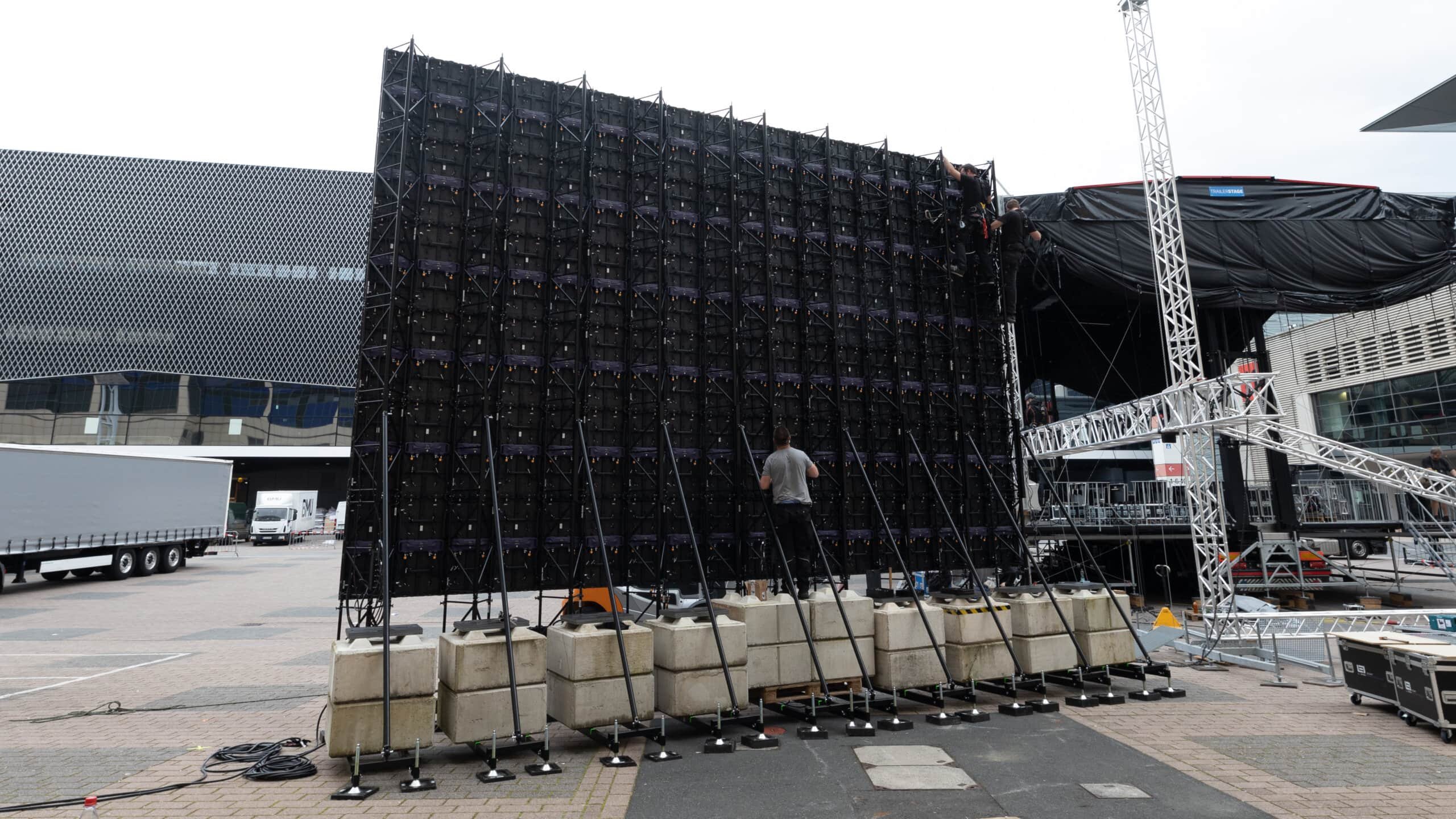 Sponsoring outdoor installation with Tri-Frames, source: LEDTEK
Before we even left for Frankfurt, we promised you some news. We of course did not forget about that. The opposite is the case. The LEDTEK Counter as a visible bar of LEDTEK NEO cabinets was an important part of our stand at the Frankfurt fair. The NEO-series was very suitable here because of its curved individual cabinets. With a special interlocking system, the round corners can be connected easily to the straight cabinets of the series. Now you can build LEDTEK pixel-perfect and robust in all directions.
With safety and service: It was our pleasure!
Well, we actually went for the following reason: with LEDTEK, we have been working on an LED technology for 7 years which can be used simply, safely and effectively. With a small portfolio of goods, we guarantee an extensive After-Sale and detailed product knowledge for each bar and studding. We have now also been able to present our products in Frankfurt in such a safe and service-oriented manner. In the end, the long days of preparation and many a musing paid off. On-site, we chatted with long-time clients and met new customers. And we could rely on the user-friendliness, robustness and functionality of our products in the endurance test of 8 metres of standing indoor installation – and much more. A team effort not only between the company's staff, but also between technology and team. We look forward to the next time!
By the way, you can use the packing list, it worked!
LEDTEK customer service
With all these news, you get the usual service: a three-year guarantee, an easy access to the proprietary Service Portal and a 48h spare part service. If you have further questions, you can reach us at +49 551 492 493 44 or send an email to vertrieb@ledtek.de. We look forward to meeting you.