With LED walls, one can put wonderful superstructures into practice. They flicker and glitters colourfully, the images are so piercingly sharp that you will be in disbelief. But all of this magic carries its weight. For everything to stay where it is supposed to be, every investment in LED technology has to be one in safety. Which is why we put both things together:
Hanging the LED wall in the wind
A reason for the development of stabile hedging methods is particularly the outdoor use of LED walls. Outdoor LED walls are always exposed to often unpredictable weather conditions. Especially wind forces cause problems for the constructions. However, due to the dead weight of the individual parts and hall winches, such as those that occur in large exhibition halls, indoor structures must also be structurally secured. It is not a problem to provide stable support at all. Most often it is the time involved that makes LED wall constructions nerve-racking and impractical. This occasionally causes neglectful constructions with a high-risk potential. Hence, something is necessary that ensures a maximum of safety with a minimum of effort. Let us introduce you to:
The Tri-Frame: a three-point truss without limits
The Tri-Frame is a three-point truss that can be attached to the back of the LED cabinets. It is installed to the frame of the individual LED cabinets with a simple click system and a bolt. Alternative securing variants usually have to be bolted and are hence more time consuming to install.
Please note: The photos do not yet include the pipes to be used for tilt protection.
The frames are adapted exactly to the size of the LEDTEK PRO and NEO LED cabinets and fit perfectly onto the back board. With a weight of 7.2 kilograms, the individual cross bars are easy to handle. And to meet the visual requirements, the frames are optionally also available with a black surface. Besides the variation in colour, attention was paid to a lean overall result. With a depth of 444mm, the frames make the back of the LED wall insignificantly wider. In combination with the foot stabilisers and diagonal braces, which can be ballasted differently depending on the area of application, it is possible to set up to 10 metres indoors. Despite the considerably slimmer appearance than with comparable constructions, the construction is fully statically calculated up to this size. However, the Tri-Frame does not only revolutionize the indoor use of LED technology. Outdoor installations so far have to be hung on an extensive substructure. With the Tri-Frame studding, a standing outdoor construction is possible as well. This one is as well incredibly slim: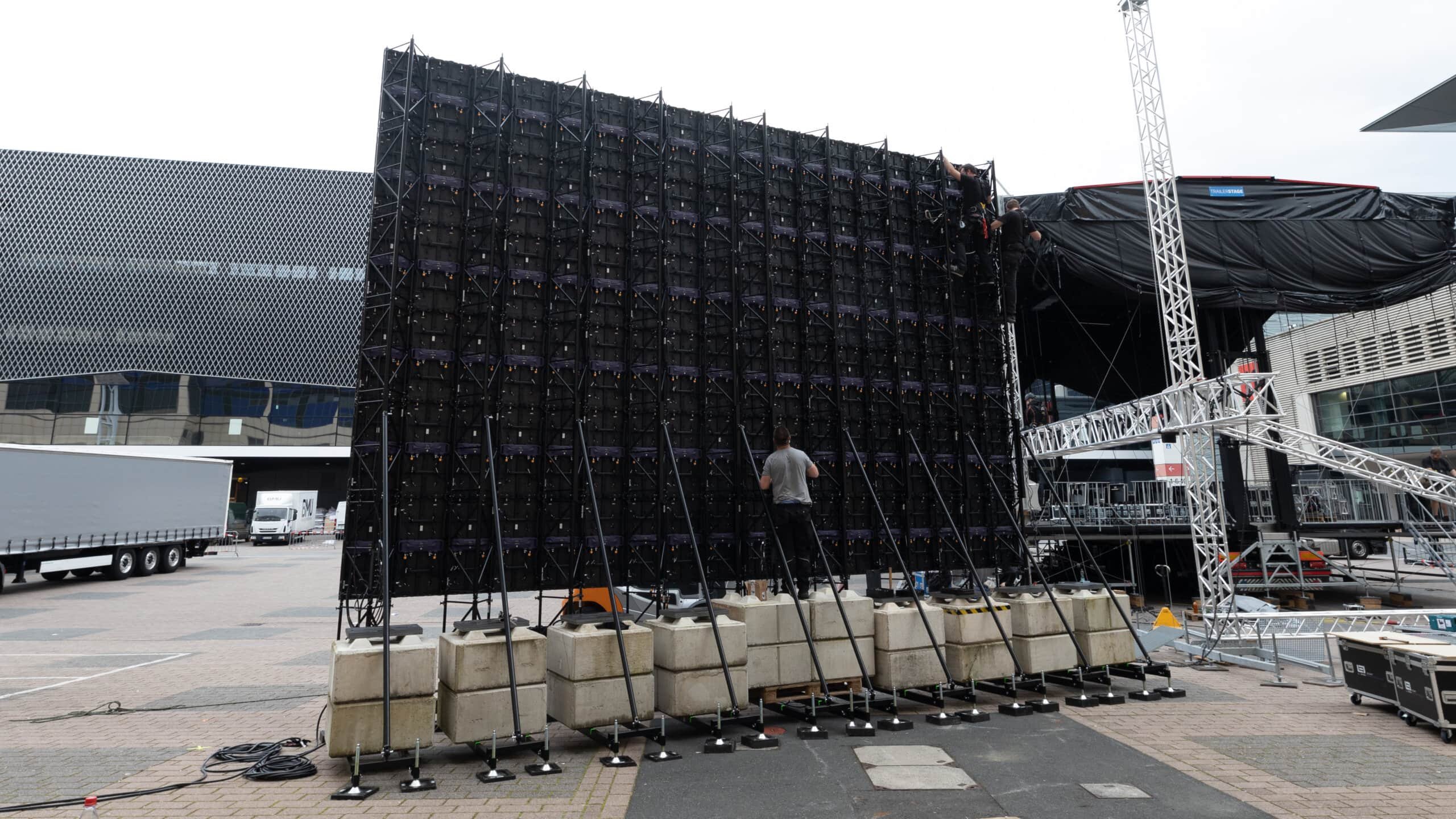 Tri-Frame Installation Outdoor Prolight + Sound Frankfurt am Main, source: LEDTEK (H)
One for all: possibilities with the Tri-Frame
To create a versatile system, the Tri-Frame is part of many different construction options. You can e.g. easily install the Tri-Frame with a base plate and the specially designed studding for indoor and outdoor events. Also, in combination with an outdoor scaffolding by Layher, the Tri-Frames secure the flying LED wall from behind.
Better together than on one's own
The Tri-Frames were developed and manufactured as a cooperation between EXPO Engineering and A.T.C. With this, we have two professional and dependable partners by our side and can leave you into your safe outdoor use with a clear conscience.
You can be sure about the stability of your Tri-Frame construction. And if you have any further questions, do not hesitate to contact us. Give us a call at +49 551 492 493 44 or send an email to vertrieb@ledtek.de.
Besides: stability is important to us in all respects. When you purchase one of our products, you profit from our 3-year warranty, the easily accessible Service portal and our 48h spare part service.